Upper Great Lakes non-qualifying competition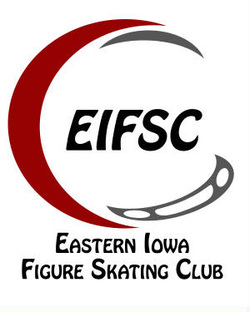 Oct. 19-22
At the Cedar Rapids Ice Arena
The Eastern Iowa Figure Skating Club is hosting a non-qualifying competition in conjunction with the
2014 Upper Great Lakes Regional
Figure Skating Championships
The Oct. 19-22, 2013, competition will be hosted by the
Eastern Iowa Figure Skating Club
and will be held at the
Cedar Rapids Ice Arena
in Cedar Rapids Iowa.
NEWS
:
Event registration is now closed, as are pre-orders of practice ice. Selection of practice ice sessions will be possible after the official schedule has been posted. You will receive an email notification when practice ice selection is available, at which point, you will be able to log on to your EntryEeze account, see which practice ice sessions are available to you and choose which ones work best for your schedule.
ADMISSION/MERCHANDISE
: We are offering discounts for pre-ordered All-Event Passes and Day Passes.
Please note: Each skater receives one complimentary chaperone credential, which admits the holder into the spectator areas. Please enter the chaperone's name in the "About Me" section on EntryEeze. Merchandise pre-orders will be available until Oct. 13.
SCHEDULES AND RESULTS
: A tentative schedule is posted. The final schedule will be posted by mid-September.
FORMS AND INFORMATION:
Event announcements, Approved Coaches list and more
HOTELS
offering special rates for Upper Great Lakes Regionals participants.
DIRECTIONS
: Both the Cedar Rapids Ice Arena, the competition site, and the Coral Ridge Ice Arena, tertiary practice site, are an easy drive off of I-380.
CEDAR RAPIDS CONVENTION & VISITORS BUREAU
VENDORS:
We will publish a list of our approved vendors by the end of July. For inquiries about becoming an approved vendor, email uglvendor@eifsc.org
VOLUNTEER:
Please consider giving the gift of your time.
CONTACT US