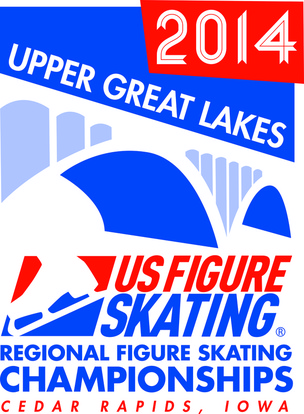 2014 UPPER GREAT LAKES REGIONALFIGURE SKATING CHAMPIONSHIPS
October 19-22
Cedar Rapids Ice Arena
---
The Oct. 19-22, 2013, competition will be hosted by the
Eastern Iowa Figure Skating Club
and will be held at the
Cedar Rapids Ice Arena
in Cedar Rapids Iowa.
NEWS
:
Event registration is closed.
PRACTICE ICE:
Pre-orders of practice ice and merchandise for Qualifying Skaters
is now closed. You will be notified via email the day and time that practice ice selection will be open on EntryEeze. Skaters who pre-ordered practice ice will have a few days to make their selections before we open up sales for the remainder of the practice ice.
SCHEDULES AND RESULTS:
The tentative schedule is posted here. The final schedule will be posted by mid-September.
FORMS AND INFORMATION
: The event announcement, approved coaches list and more.
HOTELS
offering special rates for Upper Great Lakes Regionals participants.
DIRECTIONS
: Both the Cedar Rapids Ice Arena, the competition site, and the Coral Ridge Ice Arena, tertiary practice site, are an easy drive off of I-380.
ADMISSION/SOUVENIRS:
We are offering discounted, advance prices for admission, programs and pins. You will order these via our online registration.
CEDAR RAPIDS CONVENTION & VISITORS BUREAU
VENDORS:
We will publish a list of our approved vendors by the end of July. For inquiries about becoming an approved vendor, email
uglvendor@eifsc.org
VOLUNTEER:
Please consider donating the gift of your time.
CONTACT US:
uglregionals@eifsc.org